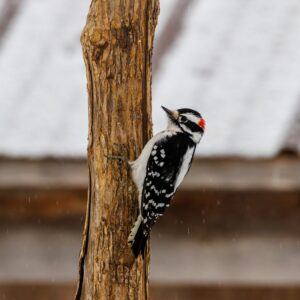 So, you'd like to know how to get rid of woodpeckers on your house, property, or trees? Well, that is exactly what I aim to teach you. I will help you choose from the absolute best woodpecker deterrents out there. In addition, I will teach you about these birds and why they peck to begin with and how to repair woodpecker damage. The Woodpecker Remover is a comprehensive resource for getting rid of these birds and keeping them away for good!
I know firsthand the extensive damage that these birds are capable of causing. I had the stucco on my house completely destroyed by woodpeckers looking to nest. To my dismay, much of the information on the web was conflicting or downright inaccurate. I also consulted several exterminators that proved to be even less useful than the information I found on the web.  After much time, aggravation, and money, I was able to figure out what works and what doesn't. Since then, I've been able to successfully help people from all over the world with their woodpecker problems. My goal is to pass this knowledge onto others in order to facilitate the efficient and effective removal of these birds.
First, I would like to note that woodpeckers are federally protected animals (Migratory Bird Treaty Act of 1918) and as such, it is illegal to use lethal means to remove them without special permits. Doing so can result in hefty fines and possible jail time. I do not recommend or advocate harming these birds in any way. It is far easier to use humane methods to lure them away. With so many good products on the market for this purpose, there is no need to use lethal force. Believe me, I know the frustration of having these birds destroy your house but it is simply not worth it! Plus, using lethal force is just not practical. Woodpeckers are extremely smart birds and chances are, you won't be able to kill all of them anyway. If there is a prime environment for feeding, storing, nesting, or mating on your property, they will eventually find it. Using certain products or combination of products, will allow you to live in symbiosis with them. We are merely convincing them to take up residence elsewhere. With a little ingenuity, I'll show you how to get rid of woodpeckers.
In order to understand how to get rid of a woodpecker, it's fundamental to understand the available options. The terms "Woodpecker Deterrent" and "Woodpecker Repellent" are often used interchangeably when searching for woodpecker-related products. Technically speaking, a woodpecker deterrent normally uses sight, sound, and/or touch while a woodpecker repellent uses smell and/or taste. Both deterrents and repellents aim to discourage woodpeckers from sticking around and/or prevent them from physically accessing the areas they desire. An ideal strategy would engage more than one of the bird's senses in order to encourage it to find another home. On the following pages, I will provide my opinions on the woodpecker products currently available on the market today. I will continually update this site as new products become available. Let me teach you how to get rid of woodpeckers once and for all!
For more specific tips on woodpecker removal, check out the following articles:
If you have any questions, concerns, or comments, please feel free to leave a comment at the bottom of the page and I will get back to you as soon as I can.