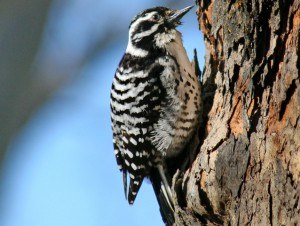 The aim of this page is to teach you exactly how to get rid of woodpeckers on stucco.
Woodpeckers can cause quite a bit of damage when they decide to peck on stucco. This material is very easy for the woodpecker to penetrate and can cause quite a mess! The key to preventing stucco damage is through the use of an effective woodpecker deterrent.
Below I will show you how to get rid of woodpeckers on stucco using these 6 awesome woodpecker deterrents:
Use Visual Deterrents
The use of a visual deterrent should be the first step in deterring woodpeckers. This is the least expensive and often most effective method to woodpecker removal. These products utilize reflective materials to scare woodpeckers away.
The best visual deterrents in my opinion are bird repellent discs, bird repellent tape, and bird repellent balloons. These items are very shiny and do a great job at scaring woodpeckers away. Of these three products, my favorite one is the bird repellent discs. These discs reflect a ton of light and also look very pretty hanging from your house. However, all three products are very effective at deterring woodpeckers. Try one of these three before moving on!
Use an Electronic Woodpecker Repellent
The use of an electronic woodpecker repellent is a very effective means for scaring woodpeckers. These devices emit natural distress calls which frighten the birds and cause them to move elsewhere.
The only two electronic woodpecker repellents I endorse are the BirdXPeller PRO and Super BirdXpeller PRO. The BirdXpeller Pro covers an area of 1 acre while the Super covers an area of 6 acres.
There are many other similar devices to these on the market but I have yet to find one that can even come close to the BirdXPeller products. These two woodpecker repellents do an amazing job at engaging woodpeckers' sense of sound and keeping them away from your property for good! I also love how you can program them to run whenever you desire.
Feed them with Woodpecker Suet Cakes
Woodpeckers go crazy over suet cakes! Place one of them inside a woodpecker suet feeder away from your house and watch them go to town on it.
This is a particularly effective method if the woodpeckers are pecking your house in search of food. My recommendation is to put 2-3 of these around your yard to deter woodpeckers from coming near your house.
Many people get discouraged by this method because they attempt to use a generic suet cake. Woodpeckers are very picky eaters which is why they make woodpecker suet cakes specifically for these birds.
This is one of the most effective woodpecker deterrents out there. It also provides a mutually beneficial relationship whereby they leave you alone and you help them in their search for food.
Shelter them with a Woodpecker Birdhouse
In the event that the woodpecker is attacking your house for shelter rather than food, a woodpecker birdhouse will provide the housing they are after.
These birds absolutely love this particular woodpecker birdhouse which is specifically made for them. Hang one of these up by a woodpecker suet feeder and they'll have no reason to bother your house!
Use Woodpecker Deterrent Paint
An extremely effective method to get rid of woodpeckers on stucco is with the use of a woodpecker deterrent paint such as Beakguard. This particular paint produces a taste and odor that the woodpeckers find repulsive.
The manufacturer of Beakguard states that the product has a 70% success rate. However, I believe they are being very conservative because I have never seen an application of this paint fail to deter woodpeckers.
They currently offer this paint in 4 colors: Portabello, Whetstone, White, and Sandstone.
Use Woodpecker Spikes or Woodpecker Netting
If you aren't having any success with the aforementioned woodpecker deterrents, try using one of the following physical barriers:
Woodpecker Spikes are attached to their desired surface. These spikes prevent them from gaining access to the area they've been attacking.
Woodpecker Netting is very effective if you can get it about a foot away from the area the birds like to attack. It is also a very effective means in deterring woodpeckers from attacking your desirable plants and trees!
These 6 woodpecker deterrents should help you get rid of woodpeckers on stucco. In addition, I'll teach you exactly how to repair woodpecker damage that may have been already done to your house! I'll show you exactly what to do to seamlessly patch these holes!
For more information on getting rid of woodpeckers, check out the following articles:
Please feel free to leave comments below!