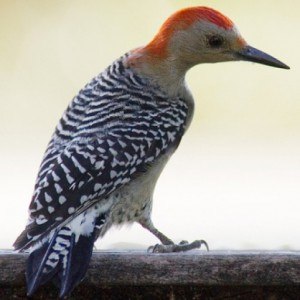 Today I will show you how to get rid of woodpeckers on trees with the 4 most effective woodpecker deterrents on the market today.
Woodpeckers typically like to attack dead or dying trees. However, they have been known to occasionally attack living trees, mostly for their sap or fruit.
You will be able to tell if a woodpecker is pecking for sap if it is making many holes in the trunk of a living tree. Woodpecker tree damage from drilling sap wells could be detrimental to the tree's health; opening it up to potential disease and insect damage. If enough holes are made, the woodpeckers could ultimately wind up killing it. This is why it is crucial to put a woodpecker deterrent in place as soon as possible.
Getting rid of woodpeckers on trees is a little more complex than doing so on houses. Some products typically recommended for houses are simply not practical for this application.
Since woodpeckers normally attack living trees for feeding purposes, these products are geared exactly for that purpose. Our objective is to either scare them away or provide them with an alternate food source.
Below are the 4 best products to get rid of woodpeckers on trees:
These are my two favorite products for woodpeckers that like to drill sap wells in the trunks of tall trees. They are a safe and effective means to scare the birds away while keeping your feet firmly placed on the ground. It can be extremely dangerous using ladders to place reflective deterrents high up in trees.
Both devices are completely programmable. You select the hours and length of operation. The sounds these devices make frighten the birds. Before you know it, they'll want nothing to do with your trees!
The BirdXPeller Pro is a great product and will cover an area of 1 acre. This should be more than enough if the woodpeckers are only targeting a few trees in a limited region.
If they are attacking trees in a more widespread area, the Super BirdXPeller Pro covers an area of 6 acres. This should be more than enough coverage to get the job done.
If the electronic woodpecker deterrents above are not up your ally, try feeding the woodpeckers instead. Providing them with an alternative food source may deter them from attacking your trees for food.
These woodpecker suet cakes are the best ones I've come across. I've never seen a woodpecker turn one down.
Place one of these bad boys in a woodpecker suet feeder and you're good to go. I recommend setting up a few of these around your yard.
I only recommend these discs if the woodpeckers are after the fruit on the tree opposed to the sap from the tree's trunk. This is because the trees they like to attack for sap are typically very tall. You wouldn't be able to place the tape high enough and even if you could, it wouldn't be very effective due to the sheer size and coverage of the tree.
This tape is extremely reflective and scares the woodpeckers away like nobody's business. Bird repellent tape is one of the best woodpecker products that can be used on trees because of its ability to be cut into custom lengths.
I recommend cutting about 10-15 lengths of tape which extend at least 1/3 of the way down the tree's trunk. This particular tape is 125ft long so it should be plenty enough to use for 1-2 trees.
If the trunk of the tree is longer than 20 ft, this may not be a practical solution.
Similar to the bird repellent tape, this product should only be used on fruit trees. Primarily shorter fruit trees as the discs are not nearly as long as the tape and therefore, don't have as large of a coverage area.
These discs are extremely effective in scaring woodpeckers away from your trees. You can guarantee that the birds will be frightened off and will leave the fruit for human consumption only!
These 4 products should help you get rid of woodpeckers on trees. In addition, I'll teach you everything you need to know to repair woodpecker damage! I'll show you exactly what to do to fix these holes!
For information on how to get rid of woodpeckers, check out the following articles:
Please feel free to leave comments below!