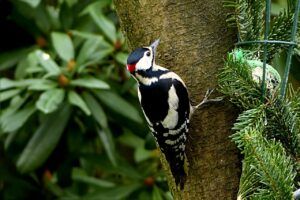 The use of an electronic woodpecker repellent is one of the easiest ways to get rid of woodpeckers. The best product utilizing this technology is the BirdXPeller Pro.
It comes in 2 different versions, the BirdXPeller PRO which covers an area of 1 acre and the Super BirdXPeller PRO which covers an area of 6 acres.
Distance – 1-6 acres depending on model
Pros – Safe and effective way to get rid of woodpeckers and other nuisance birds. Easily camouflages into any outdoor atmosphere.
Cons – Bird distress calls can be audible to humans depending on calls chosen.
Warranty – 30 day money back satisfaction warranty if the product doesn't get rid of your woodpeckers. 6 month warranty for defects in materials and workmanship.
This is one of the more expensive, but also more effective methods to addressing a woodpecker problem.
These products emit natural distress and predator sounds that scare woodpeckers away. These sounds warn the birds that they are entering a dangerous area and to head the other way.
One feature that I really like on these units is the fact that the volume can be adjusted to your liking. In addition, you can choose the hours that you'd like the unit to operate.
These units are absolutely fantastic but I would advise trying cheaper methods before resorting to it. The cost may be prohibitive to someone just starting out with their woodpecker problem.
If all else fails, these units should be able to get the job done for you. This is a very good way to engage the woodpeckers auditory senses while also using a visual deterrent.
Users love having the freedom of just turning it on when they want to get rid of woodpeckers or other undesirable birds.
My favorite aspect of these units is that they are more visually discrete than any other woodpecker product. Their green color allows them to be easily camouflaged into any outdoor environment. It is near impossible to notice these units are even there.
It's also nice to get rid of woodpeckers without having to climb ladders and hang visual deterrents from eaves and trees.
Do not be fooled by similar products out there which claim to do the same thing. I've tried many of them and they simply do not work.
This is the only product on the market that I've found to effectively engage a woodpecker through sound. You would be much better off investing in additional visual deterrents than purchasing a sub-par sound deterrent.
The BirdXPeller PRO is hands down, the best electronic woodpecker deterrent out there today!
Check out the Best Woodpecker Deterrents page for a list of effective ways to get rid of woodpeckers.
You can also head over to the Repair Woodpecker Damage page for help on fixing any damage these birds have done.
Please feel free to leave comments below!