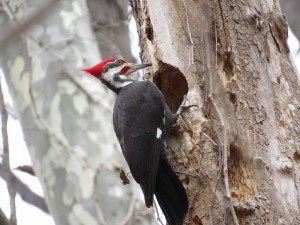 Nothing is more unsatisfying than hearing the sound of a woodpecker drumming away on the side of your house early in the morning. In order to understand how to get rid of woodpeckers on cedar siding, it is paramount that you choose an appropriate woodpecker deterrent.
Below I will tell you exactly how to get rid of woodpeckers on cedar siding using 5 easy methods:
Use Visual Deterrents
I recommend that you try this method first as it is a very affordable and effective solution. Woodpeckers are petrified of moving, reflective material. I've often heard people recommend hanging CDs, pie tins, or various other household items but seldom do these items get the job done. The woodpeckers might be wary at first but it won't take them too long to discover that there is no imminent threat.
We need to use items that are very shiny! The best 3 items for this purpose are bird repellent discs, bird repellent tape, and bird repellent balloons. All of these items are reflective in nature and are specifically designed for woodpecker removal. If I had to choose one to try, it would hands down be the bird repellent discs. They are extremely shiny and look very decorative hanging from your house. The other two are more suitable for back yards, boats, sheds etc.
Use an Electronic Woodpecker Repellent
If you are looking for a more visually discrete solution, try using an electronic woodpecker repellent. These devices emit distress calls that frighten these birds away from the area. Both devices allow you to choose when and how long they operate for.
If you choose to take this route, I'd recommend that you go with a well-known product such as the BirdXPeller PRO or Super BirdXPeller PRO. The BirdXpeller Pro covers an area of 1 acre while the Super covers an area of 6 acres.
These are the only 2 products that I stand by. There are many cheaper alternatives but in my opinion, you'd be much better off investing that money in additional visual deterrents than wasting your money on an inadequate audio woodpecker product.
Feed them with Woodpecker Suet Cakes
Woodpecker suet cakes are one of these birds' favorite foods. These cakes are placed inside a woodpecker suet feeder where they can rest and chow down. This method works particularly well if they are attacking your cedar siding in search of insects. Set these up away from your house and the woodpeckers should leave you alone. I normally advise using 2-3 of these depending on how many woodpeckers are around.
It is absolutely paramount that you only use suet cakes specifically targeting woodpeckers. These birds are very finicky eaters and won't always go for suet cakes designed for songbirds per say. Although there are several good cakes out there, I love these woodpecker suet cakes. If these cakes are in the vicinity, you can bet that's where the woodpeckers will be!
Shelter them with a Woodpecker Birdhouse
If the woodpeckers are attacking your home for shelter rather than food, a woodpecker birdhouse will give them the home they desire. These birds go crazy over this particular woodpecker birdhouse and chances are, they'll take up residence there. Just set this thing up away from your home and preferably by a full suet feeder.
Use Woodpecker Spikes or Woodpecker Netting
If all else fails, use a physical barrier to prevent these birds from accessing your house.
Woodpecker Spikes are placed on any surface and will ensure that they can't get to their desired pecking area.
Woodpecker Netting is also very effective if you can hang the net about a foot away from the area they like to peck. This will guarantee that they won't have access to your cedar siding.
These 5 methods should help you get rid of woodpeckers on cedar siding. In addition, I'll teach you everything you need to know to repair woodpecker damage! I'll show you exactly what to do to erase these holes!
For more specific tips on how to get rid of woodpeckers, check out the following articles:
Please feel free to leave comments below!